On my tour of America over the last few weeks, I have inevitably spent a certain amount of time watching cable TV in hotel rooms. A recurring story that has cropped up on the news is the border crisis. Many of the images I've seen showed large groups of immigrants being rounded up. Others, which were even more distressing, depicted young children who have simply been abandoned.
The total number of people who have come into the U.S. illegally so far this year is unknown. Some estimates claim it is as high as 700,000. Many—perhaps most—voters agree that it is at an unsustainable level. Yet given the Biden administration's reluctance to return any of these people to their home nation, the upshot is that every state is now a border state.
It is fascinating to compare Joe Biden's handling of this situation with the approach of one of his Democratic predecessors, Bill Clinton. When Clinton delivered his State of the Union address in 1995, he received a standing ovation from Congress for his comments on illegal immigration, in which he repeatedly referred to those who were in the country illegally as "illegal aliens" or "criminal aliens." Clinton would not get away with uttering these words today, in the "new" America.
Although every commentator continues to describe this situation as a "crisis," I would suggest the time has come to call it an emergency. And yet as a political issue, doing so could prove to be electoral dynamite in the midterm elections of 2022. For those people who have done the right thing and entered America legally, the idea that those who came illegally—or those who have been trafficked—will soon have to have the same rights as them is an insult. It is for this reason that I believe this situation offers much hope to Republican candidates, especially when it comes to appealing to Latino voters.
Remarkably, despite the gravity of this state of affairs, Vice President Kamala Harris, who has been put in charge of the situation, has yet to visit the border. Perhaps she does not want to draw attention to the problem. Maybe she thinks it will just go away. She would be wrong, of course.
Unlike Ms. Harris, I decided that I would visit the border following a speaking event in Phoenix. What I discovered there is far more sinister and dangerous than anything that I could find on cable TV.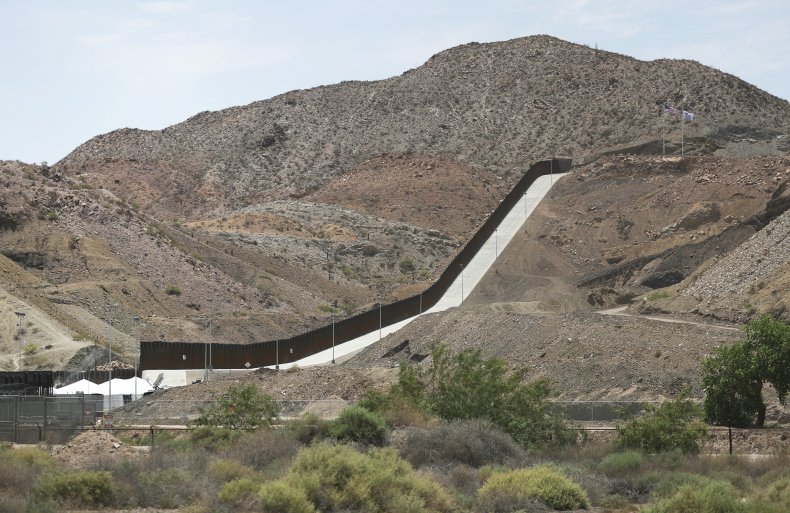 I went into Pinal County, Arizona, a place of strange beauty. There, I met Sheriff Mark Lamb, who has to deal with the emergency every single day. I was told he would be able to give me an unvarnished account of what is going on.
The site which we visited together was 60 miles from the U.S. border, yet the evidence of the trafficking trade was all around us. This particular route comes through a reservation, where there is no border wall, just a modest barbed wire fence. The criminal gangs that arrange the crossings charge up to $8,000 per head to get people into America illegally in what can only be described as a full-scale military operation.
The men who come—and the sheriff said they are all young men—are of military age and dressed in camouflage kit with matching rucksacks. They carry their own plastic water containers. Each one wears a special pair of over-slippers which not only reduces sound but does not leave behind any tracks. It is a grueling six-day hike across the bleak Arizona desert. They hide out during the day and march at night. The site I visited was very close to a series of roads, including the Interstate 8 highway.
Around me I saw discarded combat fatigues, suggesting this was a place where those who have completed the trip successfully change into civilian clothes before melting into American society. There were large numbers of water bottles as well. I was told many of the traffickers who come carry with them sizeable quantities of drugs, and that they themselves drink a combination of water mixed with various drugs to stay alert and aggressive, thereby posing a huge danger to Sheriff Lamb and his officers.
At pre-allocated mile marker posts on Interstate 8, and at other prearranged points, Sheriff Lamb told me, these men are picked up in the dead of night and taken off to join drug gangs all over the USA. Very few will ever be discovered. Not only does this make a mockery of official statistics, but the direct importation of dangerous criminals into America places law-abiding citizens in far greater danger than they would otherwise be. It is a scandal, yet it is one which the Biden administration seems happy to preside over.
There is no getting away from the fact that this is a criminal enterprise from start to finish, and all American voters need to be told this truth. If Kamala Harris really cared about the growing gang violence in American cities and the staggering number of opioid deaths there, she would also visit an area like the one I did to try to get a grip on the situation.