NIGEL FARAGE , REFORM UK LEADER AND SENIOR EDITOR-AT-LARGE, "THE DEBATE"
ON 1/20/21 AT 6:30 AM EST
Mainstream broadcasters across the Western world are having a field day. With the hours ticking down until Joe Biden's inauguration, there is a consensus view that the most erratic president in U.S. history is about to leave the White House and his enduring legacy will be those appalling images of a violent mob storming the Capitol.
I've been asked in several interviews I've given recently whether I regret being a Donald Trump supporter. I've even been given the opportunity to repent having been one. My answer to these points is always the same: I do not regret backing him for a moment and therefore have no need to repent. Indeed, the opposite is the case. I believe Trump's legacy is a good one, no matter how some of his supporters behaved in Washington on January 6.
The growth of populism predated the emergence of Donald Trump as a political figure. It emerged not just from the financial crisis, as many commentators choose to believe, but was also born of a fundamental breakdown of trust between the electors and the elected. The phenomenon of career politicians, who make cynical promises at election times but have no intention of fulfilling them, was largely responsible for this fracture. By the middle of the last decade, the major cities in which politics is centered both domestically and internationally had begun to feel like different planets. Their inhabitants had utterly distinct priorities compared with those of ordinary people elsewhere.
All of this gave rise to a new form of politics, led by people who operated outside of the establishment and who threatened to upend the cozy relationship between big business and global affairs. The media, which had lost touch with many of its consumers, never saw it coming. Once Brexit had been achieved and Trump had won a few months later, however, those who run the various media platforms realized in horror that they, too, were a target of this disruption. From that day to this, they were never prepared to give Trump a break and have spent most of the last four years trying to destabilize him and his administration. Now, they are cementing their view of his legacy and to hell with any inconvenient facts. He was the legitimately elected president and the media never once were willing to recognize it.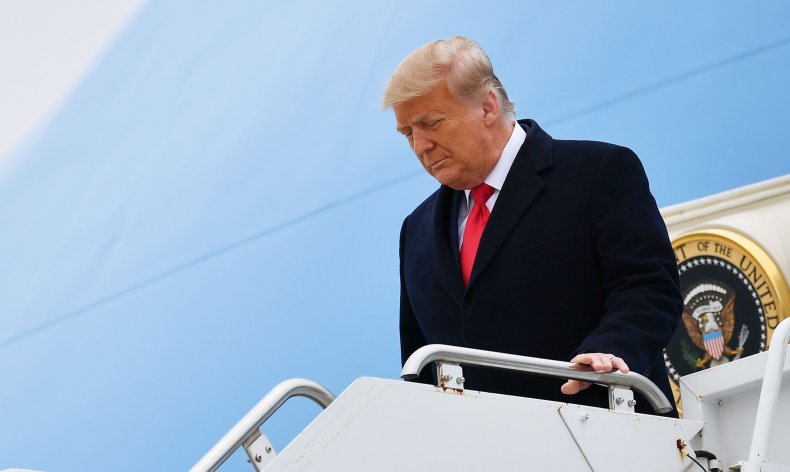 On February 29, I spent some time with Trump and his team at the Conservative Political Action Conference in Washington. He was about to go on stage and was full of optimism and energy. The American economy was booming, unemployment was at a 50-year low, growth was solid and ordinary families were doing better than they had been a couple of years before. I thought that the president was on course to win the ensuing election in a landslide and I know I was not alone. Nobody, of course, could have foreseen that COVID-19 would develop so rapidly and turn into a global disaster.
It was not so much the economic impact of the pandemic that altered the 2020 election, however, as it was a wholesale change in the way the election was conducted as a result of the virus. Pre-COVID, the question for the Democratic Party in the big cities was always going to be whether they could persuade enough people to go and vote. As a result of the pandemic, though, the polls came to the voters. A record 100 million people took advantage of early mail-in ballots. This was a game-changer and in my opinion it is the chief reason Trump lost. The result had little to do with his four years at the helm of the nation.
I believe that Trump's greatest legacy will be that he helped to reestablish trust with voters. He has often joked that he kept more promises than he made, but there is a sense of truth in this wisecrack. That is why tens of millions of members of the electorate adore the man. He was their voice. He kept faith with them on economics, on brokering peace deals around the world and on standing up to the Chinese Communist Party. His voters could not have asked for more, and the number of those who supported him grew.
There is one more significant act left in this drama—the impeachment vote in the Senate. The opinion polls are clear that in the country generally, those who vote Republican remain strongly pro-Trump. But is the same true on the Hill? I see a parallel with the position in which Margaret Thatcher found herself in 1990. Despite having been the most successful Conservative politician of the modern era—indeed, perhaps ever—she was ousted by her parliamentary colleagues after three election victories and more than 11 years in power. After her departure, it took more than 20 years for the Conservative Party to regain its confidence. If Mitch McConnell and his colleagues in the Senate think that barring Trump from standing for future elections will somehow turn around the fortunes of their party, they are gravely mistaken. In fact, I would go so far as to predict that they will be making an error of historic proportions if they go down this road.
Nigel Farage is senior editor-at-large of Newsweek's "The Debate" platform.
The views expressed in this article are the writer's own.