During my last 15 years as a member of the European Parliament, I would have to keep the windows of my office closed whenever the European Parliament made its monthly migration from Brussels to Strasbourg. This was because of the protests staged by members of the Falun Gong spiritual movement. They would assemble on land just outside the parliamentary building and play their somewhat eerie music. They wanted to alert European politicians to their treatment in China and, in particular, their claim that the authorities were harvesting the organs of their followers. I confess that I did not really take them seriously, and viewed their lobbying as an irritation.
I am not alone. Over the last couple of decades, the Western world and its media have given very little attention to human rights abuses in China. As a result of this, most people who are quite happy to buy competitively priced goods from that country simply don't realize the breadth of the crimes against humanity for which the Chinese regime is responsible. It is no exaggeration to say that the Chinese state has conducted murder on a vast scale. The time has come for the West to address this stain on the world.
In the last few days, BBC Radio 4 broadcast an excellent documentary called "The Briefing Room." It was about the Uighurs, the 12 million-strong Muslim group based in northwestern China, and it was presented by a left-wing commentator named David Aaronovitch. I am no fan of his opinions or, indeed, of much of the BBC's increasingly "woke" output. But the plight of the Uighurs is not a matter of left or right. It is simply about right and wrong. This 30-minute program included interviews with various academic witnesses, each of whom set out in clear terms how, since 2009, the Uighurs have been persecuted by the Communist Chinese regime. The Chinese government rejects the idea that the Uighurs are an indigenous group, and this is at the root of the catastrophe.
While it is true that some Uighurs are responsible for terrorist reprisals in response to the crackdown by the Chinese authorities, nothing can excuse what the Chinese state has done to these people. An estimated 1.5 million Uighurs have been forcibly removed from their homes and placed in so-called re-education camps. In these camps, they are encouraged to denounce their Sunni Muslim religion and to join the cult of hero-worshiping President Xi Jinping. Those who resist being reprogrammed end up in prison. While they are away, their families are compelled to allow state officials to live inside their houses and assess the reliability of the occupants. In those families that are too resistant, the young women are made to undergo forced sterilization.
There is no freedom outside of the home, either. The BBC program explained that in some Uighur-dominated cities, there are police points every 200 yards or so, each with video and audio surveillance. Fascinatingly, the former British diplomat Charles Parton revealed that the public security bureau has praised the technology firm Huawei for the help it has provided installing some of this equipment.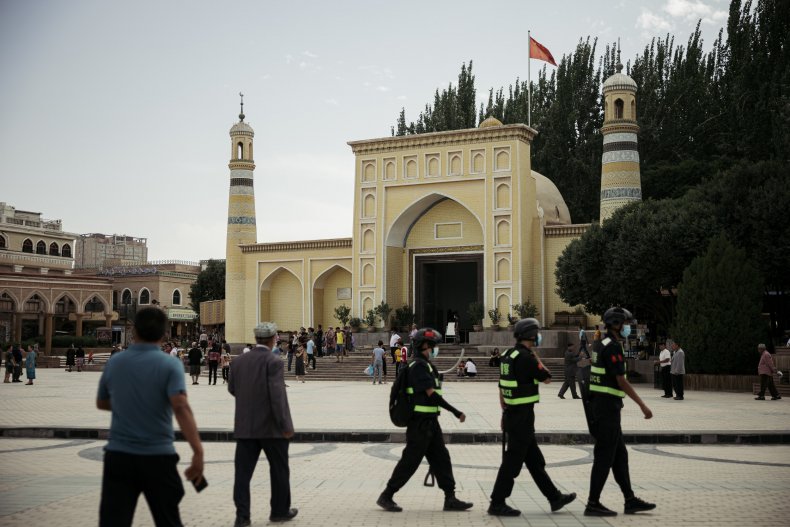 I was pretty shocked by all of these disclosures. Yet, to the best of my knowledge, in no other part of the BBC's enormous empire were the findings of this important program (now available as a podcast) promoted. Perhaps it was deemed by BBC bosses to be too controversial, and was left only for the self-selecting audience that normally listens to Radio 4 documentaries to appreciate. No other British media outlets appear to have picked up on this much, either.
In the same vein, I discovered a few weeks ago that the independent China Tribunal, under the leadership of Sir Geoffrey Nice, reported some truly shocking findings. Sir Geoffrey's report concluded that forced organ harvesting from prisoners of conscience has been practiced for a substantial period of time, involving a very large number of victims. And the group which has had this state-sponsored murder inflicted upon it? Falun Gong, whose followers spent all those years outside my window in Strasbourg.
Perhaps those of us who are Sino-skeptics and who have been campaigning hard for a total reappraisal of the West's relationship with China have spent too much time emphasizing the economic and espionage threats that the regime poses. We are seen, by our critics, to be backing the United States against China in a new nationalist contest to be the global top dog. I am the first to say that we all now need to spend more time on the moral outrages that are being perpetrated by the Chinese Communist Party. It a truly wicked regime which none of us—left or right—should ever trust.